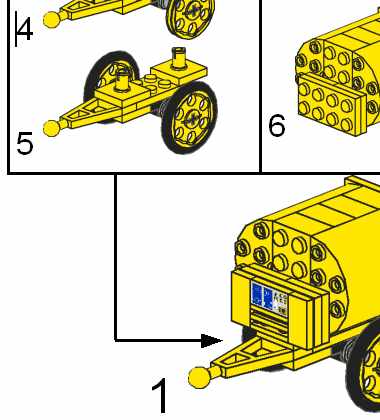 Excerpt from color instructions
As with all Milton Train Works™ models, you get a fantastic set of instructions, featuring cropped views, cutaways, subassemblies and other nuances to make this a fast and fun build. These instructions, while not quite "The LEGO® Group" quality, are amazingly close and are thorough and accurate. They will allow you to quickly and correctly assemble this set. You will receive a high quality printed or photocopied set of instructions and a parts list, as well as all the required parts to create one instance of the set.
These instructions were created with MLCad, an LDraw compatible CAD modeling program especially designed for use with LEGO® and compatible elements. I created some custom LDraw elements specifically for this model, to allow me to model the correct control panel (an Aquazone printed tile part that had not previously been rendered).
After the painstaking transcription, I checked the instructions for accuracy, generated the parts list and had a fellow Bricksmith™ print them, doublesided, on a color laser printer, ensuring that you get the sharpest instructions offered by any limited run custom LEGO® kit producer on the market today. (the black and white instructions are printed on my own high speed 600 DPI HP 2100 LaserJet™)